A CRM plus VRM Venn for 2013
I spent most of 2012 with head down consulting on a couple of big 'CRM plus VRM' propositions – more on those when they show up in the wild. So i've been pondering on where to focus on in 2013.
I put together this Venn diagram to help think through which areas of our work might reach tipping point in 2013. It looks at the intersection between our three areas of interest – CRM, VRM and Personal Data Services.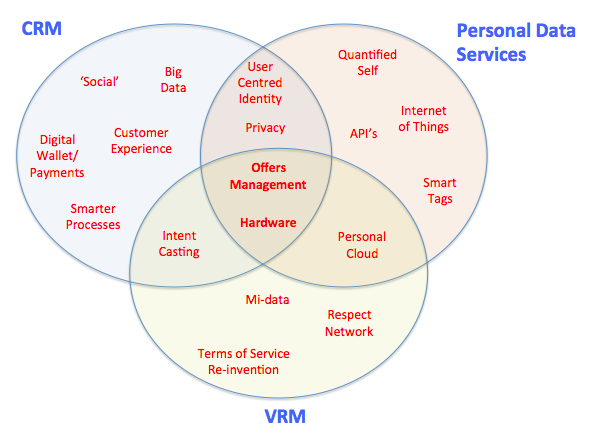 The key points I took out from sketching this out were:
1) As an overall theme, I think 2013 will be the year that large organisations with lots of individuals as customers will wake up to the option to build rich, data-driven propositions around volunteered personal information. Critically, this data will being plumbed directly into existing operational CRM systems from 'something outside' (whether that be a personal data service, personal cloud, 'midata' or some variant thereof) ; Yes CRM plus VRM for real, and built for large scale. The UK midata project, and equivalents elsewhere, will help in that, although more as the spur that makes organisations think about the issue and build their own propositions with the data they hold than about data actually flowing anything like freely.
2) Whilst many/ all of the items on the venn are on their way to a tipping point, some are more ready than others.
3) Offers management, a perhaps obscure, behind the scenes/ yet to really emerge function, will see significant change this year. The current modus operandi of 'get a contact point and some input data and push offers to it' has largely run out of road in many key sectors and demographics. The critical aspect of making this happen is that it requires work from both demand and supply sides, i.e. both buyers and sellers. Without both acting together we just get what we have now. We'll see a number of ways in which I can pull relevant offers via a channel of my choice emerge in the first half of this year, and if well implemented, get momentum in the second half.
4) VRM/ Personal Data Service Hardware. One can get so far with software, but when one adds genuine customer-side hardware to the mix then we get a lot further. So look out for prototypes and then products in that space.
So that's my target for the year – a hardware device that pulls in offers that I have personalised. No doubt it will tackle some other VRM issues along the way.
Anyone else want one?
Iain